It has become a tradition yet when the first face of America, its President chooses the turkey for an upcoming Thanksgiving Day for a whole nation. This year Barack Obama did it in a different way. The national turkey was offered to choose between Gobbler and Cobbler by the Facebook subscribers. Surely nobody will cook it for dinner. After voting the loosing bird will be sent to revel somewhere on the farm's valley.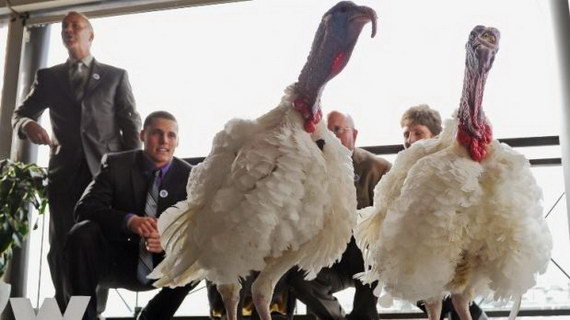 Each year President pardons only one turkey but some days ago he decided to shift his responsibility onto American citizens. If someone wants to participate in this act of generosity, help the President decide which turkey to pick!
On Wednesday this global vote finishes with the definite people's decision. But before that, let us get acquainted with the life stories both of the birds. Gobbler and Cobbler were born on the same day on the same place. It was a farm in Virginia. These are the only coincidences between them. Gobbler behaves itself proudly and prefers corn and violin. And Cobbler is much more relaxed, its diet is based on cranberries and it shows preferences to Carly Simon's musical style.
If you are on Facebook, you have time yet to vote for one of these candidates and make easier the task for President Obama.
Barack Obama pardons Cobbler the turkey for Thanksgiving
Mr Obama pardoned both the winning national turkey, Cobbler, and his alternate, Gobbler.
Leave a Response below